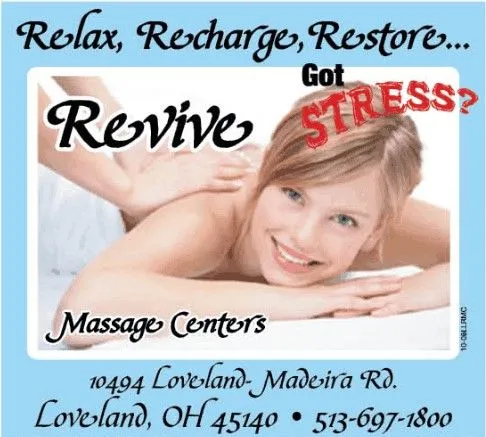 Gift Certificates available. Massage certificates are valid for one full year from date of purchase. You do
not have to be a chiropractic patient to take advantage of Revive Massage Therapy services.

Revive Massage Therapy located at 10494 Loveland-Madeira Rd, Loveland, OH 45140
(inside Baker Family Chiropractic & Sports Injury Clinic) and provides massage
therapy services by State of Ohio Medical Board licensed massage therapists
(LMT). Convenient location for Loveland, OH 45140, Madeira, Indian Hill,
Montgomery, and surrounding Cincinnati, Ohio Areas.

Most types of massage available: Relaxation massage, Deep tissue massage,
sports therapy massage, swedish massage, etc.